Splash 15 : 06.-08. Juli 2012
Am Wochenende vom 6. bis zum 8. Juli findet das splash!-Festival zum 15. Mal statt. Zum Jubiläum hat sich eine der weltweit erfolgreichsten HipHop-Bands angekündigt: die Dilated Peoples. Mit Hits wie "This Way" oder "You can't hide, you can't run" wurden sie weltbekannt, dank ihrer energiegeladenen Shows und zahllosen Tourneen zählen sie mittlerweile zu den Lieblingen der HipHop-Fans.
In Ferropolis will die Band einerseits das 15. splash! und andererseits auch die HipHop-Kultur in ihrer Gesamtheit feiern.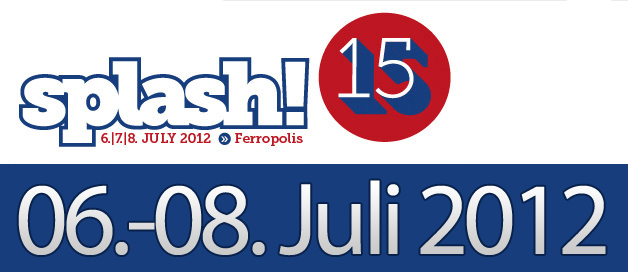 Nationale und internationale HipHop-Stars wie Kool Savas, Nas, Max Herre, Beginner, De La Soul und Wiz Khalifa sind bereits bestätigt, außerdem werden der Rap-Avantgardist Danny Brown, die Publikums-Lieblinge Dilated Peoples sowie die Old School Legenden Lords of the Underground aus New York zum splash! 15 einfliegen.

Der Auftritt des Rappers Danny Brown in Ferropolis ist hingegen eine Europa-Premiere. Der Rap-Avantgardist hat erst vor kurzem einen Vertrag bei dem New Yorker Kult Label "Fool's Gold" unterschrieben. Seither zählt der Rapper ohne musikalische Berührungsängste zu den größten Hoffnungsträgern des amerikanischen Rap.

Die Lords of the Underground sind zwar schon seit den 80er Jahren als Rapper aktiv und hatten mit "Here come the Lords" einen der ersten HipHop-Hits. Trotzdem war die Band um Mr. Funke, DoItAll Dupré und DJ Lord Jazz nur selten in Europa zu Gast. Auf dem splash! geben die Party-Rapper nun eines ihrer seltenen Europa-Konzerte.

Zum 15. Festival-Jubiläum wird es außerdem noch eine weitere Musikstätte geben. Am splash! Beach legen verschiedene DJs vorzugsweise Soul- und Funkmusik aber auch Instrumental-HipHop auf. Außerdem gibt es ab sofort auch Tagestickets für das splash! Festival zu kaufen.